Quality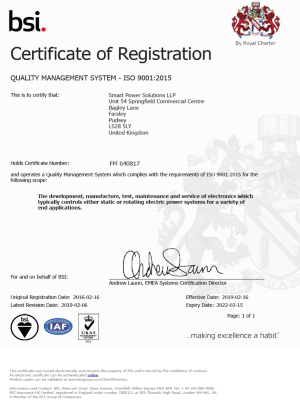 From the very start of the company, quality has been very important to us. Our design and manufacturing processes are carefully managed and we have a flexible and fully traceable control system in place that covers all aspects. As the company grew taking on more staff and more complex projects, the need to have a formal Quality Management System (QMS) became apparent and this was implemented in 2011. This QMS system has been gradually improved since then to better work for the business and to add value for us and our customers. In Q3 2015 we engaged British Standards Institute (BSI) to carry out a "pre-stage audit" of our QMS to ISO9001:2008. This having been successful we pushed straight through to employing BSI to carry out external auditing. The company achieved certification in February 2016.
Achieving ISO9001 is very much viewed as the next step for our company and not the end. Moving forward we will be actively carrying out various continuous improvement activities. We will of course also be carrying out a program of internal auditing which will be mainly carried out by our BSI trained staff. We set ourselves the target of achieving ISO9001:2015 before the end of March 2018, six months before this becomes mandatory. This fits very well with our "Risk Management" philosophy. We duly successfully received certification to ISO9001:2015 in January 2018. You can download the latest copy of our certificate and the overall Quality Management System document from the links at the bottom of this page.
In terms of other aspects of quality, all our production staff who carry out PCB assembly work are trained to IPC-A-610. Any wiring harness work is carried out to IPC/WHMA-A-620 and again our staff are fully trained. Please see below for their certificates. We only use high quality crimps and tooling from suppliers such as CEMBRE
Given our company name, you won't be surprised that software is involved in much of what we do. This is mainly embedded code in microcontrollers / DSPs but also involves other platforms. We have a documented software quality policy which governs all aspects of development including how we manage tool versions, requirements capture and verification / validation. The software coding structure and rules are based on  'MISRA C : 2012′ with very few deviations. Whilst MISRA C was originally developed by the automotive industry, it has now been adopted by many other industries as more and more applications contain software and have an aspect of safety in them. We are currently assessing several functional safety standards and trialling code checking and testing tools.
Quality Downloads
ISO9001:2015 QMS
ISO9001:2015 Certificate
Internal Auditors
IPC Certicates (610 and 620)